January 14, 2020
---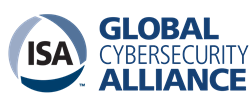 The ISA Global Cybersecurity Alliance (ISAGACA) begins the new year announcing several priority projects for 2020 and expanded membership. Mission Secure is excited to join this initiative as a Founding Member, further supporting our mission to help clients prepare for and protect against cyber attacks.
"Unifying and intensifying the work of experts around the world, regardless of affiliation, is a key part of ISAGCA's mission. We believe that automation providers, cybersecurity vendors, asset owners, government agencies, research groups, and others involved in cybersecurity efforts are stronger together, collaborating to deliver solutions that meet the needs of industry today and tomorrow. We are proud to bring together a diverse group of thought leaders to advance the state of cybersecurity."

- Mary Ramsey, ISA Executive Director
---
Read the press release | ISA Global Cybersecurity Alliance Kicks Off 2020 with Priority Projects and Expanded Membership.