Limited-time Complimentary Offer |
IMO 2021 Cyber Readiness Review:
How does your organization measure up to today's cybersecurity standards?
The maritime industry recognizes the need for cybersecurity oversight to ensure the effective management and mitigation of evolving cyber threats. But, achieving compliance and cybersecurity can be challenging in an evolving regulatory and standards environment.
We're here to help you prepare for the IMO 2021 cybersecurity resolution! Be one of the first 20 organizations to sign up and get a limited-time, complimentary IMO 2021 cyber readiness review—a $10,000 value. It's a simple, three-step process: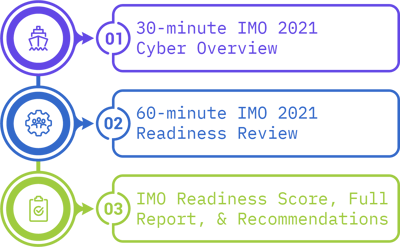 Get your score and see how prepared your organization is for the IMO 2021 cybersecurity standards
---