ISO 27001 - CISA - NIST CSF - IEC 62443:
Manufacturing:
A Hot Target for Cyber-Attacks
From connected manufacturing and smart factory networks to new IoT technologies and advanced robotics, Industry 4.0 is transforming manufacturing operations.
While promising advances in productivity, efficiency, and competitiveness, the rapid adoption of connected devices and smart processes leaves manufacturing operations exposed to new cyber threats and adversaries.
Today, manufacturing ranks among the top industries targeted by cyber-attacks across the globe. Are your operations protected? See how your organization measures up to today's top cybersecurity standards.
ISO 27001, CISA Guidelines, NIST Cybersecurity Framework, IEC 62443—see how your cybersecurity strategy stacks up against all these frameworks.
It's a simple 2-hour, three-step process.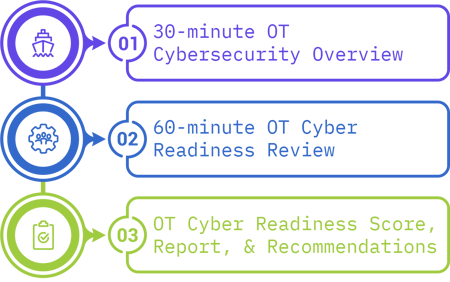 Manufacturing OT Cyber Readiness Review
What is it? Leverage Mission Secure's cybersecurity expertise and countless hours working on end-to-end commercial operational technology (OT) assessments in this manufacturing OT cyber readiness review. We'll cover the critical points in the standard(s), common pitfalls we see in the manufacturing industry, and prioritize actions for the greatest return.
How does it work? Sign up and review your cybersecurity readiness in a simple three-step process:
Step 1: Initial 30-minute OT cybersecurity overview
Step 2: 60-minute OT cyber readiness interview
Step 3: Readiness score and report with high-impact recommendations
Short on time? We've got you covered. Shorten the process (and time to getting your score!) by combining the first two steps into one 90-minute meeting.
What do you get? In the end, receive your manufacturing OT cyber readiness score and full report complete with high-impact recommendations to boost your cyber protection further. Have more questions? Mission Secure's IT, OT, cybersecurity, and industry experts will be there to answer any questions or provide guidance on your organization's strategy and cybersecurity goals.